Ok, I  am not a fashionista, but I have learned what looks good in photographs.
These are some of my tidbits:
1) Wear clothes that make you feel beautiful!
I know myself being a "curvy" girl, I LOVE to wear dresses and they are what I feel most comfortable in.
2) Hire a great photographer!
3) Don't be afraid to wear bold colors.  You don't need to be all matchy matchy, but it is good to wear complementary colors.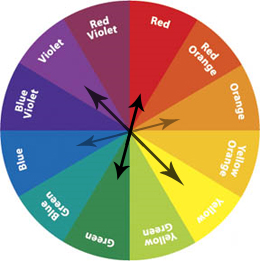 See the wheel for examples of what colors go together.
3) Be careful of patterns and plaids, if you absolutely LOVE a dress with bold patterns, then have your partner wear a solid shirt to complement your bold pattern.
4) Bring a couple different outfits and your photographer can always advise you on what works best!
5) Dress for the weather and layers, this can add different looks for pictures, for ex. Cardigan or sweater, sport coat over jeans etc.
8) Smile and enjoy every moment!